Cultivating Confident Learners and Leaders
A Personalized Learning Academy for Early Childhood through 8th Grade.
Students Deserve a Classroom
Designed for This Century
Students shouldn't spend their days sitting in rows. The "teach to the middle" philosophy holds back student development.
Using a balance of project-based learning, digital curriculum, and interactive environments our educators can tailor learning to each student's ability, pace, and learning style. Students are empowered to go further into areas of passion and skill. Flexible seating in a studio environment inspires collaboration.
Cultivating Confident Learners & Leaders
Research-Backed Approach
Learning is not a one-size-fits-all endeavor. That's why we've designed a new approach not available elsewhere in West St. Louis County. Our tests scores show it's working.
Personalized Learning for Each Student
Digital curriculum is paced by a student's ability, pace, and learning style. Students have autonomy in their daily schedule and receive personal attention due to low teacher/student ratios.
Growth Beyond Academics
Students experience a values-based education that supports academic, social, interpersonal, and spiritual growth. We emphasize real-life success skill development.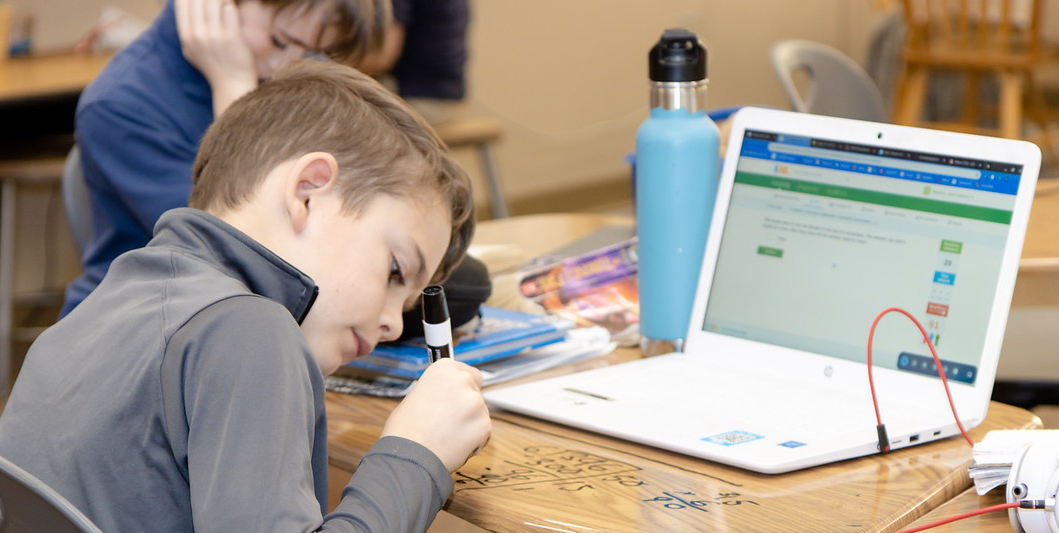 Excellent Environment for Student Learning
St. John School is:
- In Top 30% in Nationwide Testing
- A Blue Ribbon School
- Accredited at the State, National, and International Level
Evenings Should Be For Families

"The fact that he is able to make his own day has been a very positive experience. I feel that he's less stressed. He enjoys school more and I believe he's learning more. He can work at his own pace, so he understands the concepts and teachers ensure that it's solidified in his mind before he moves on.

He also gets his work done during the day, which means we have more family time at home. We're building on our family skills as opposed to sitting down and doing homework all night long. I think we're all happier as a family."

- The Heckmanns
Personalized at Every Level

Your Next Step
Schedule a Tour

Discover the innovative approach & explore interactive classrooms.

Apply

Help us better understand your family and your unique story.

Shadow Day

Your child will experience St. John on a day of your choice.
A Better Way Forward
We know you're investing in your child's education with your time, energy, and money - no matter where your child attends. We've seen our students, who come from across St. Louis, excel not only in their test scores, but in their interpersonal relationships, their comfort level presenting in class (even in front of assemblies) - gaining confidence in who they are every step of the way. Students experience whole person growth and continue to take strides forward nationally (we're in the top 30%). Our school is fully-accredited, meeting all state and federal standards, and we maintain our Blue Ribbon status.
The next generation of students deserves a tailored approach. Our world is hungry for confident learners and leaders, who are skilled communicators and collaborators. Your child will be equipped with real-life success skills for wherever their path takes them.